09/06/2022
CosmeticBusiness
CosmeticBusiness 2022 Proves Successful as the Leading Industry Get-Together
Perfect Conditions for Highly Qualified Project Meetings
CosmeticBusiness, the international trade show of the cosmetics supplying industry, is back on its regular schedule following a break due to the pandemic and an autumn edition in 2021. 326 exhibitors and represented companies from 26 countries presented their innovative products and services for the development, production and marketing of cosmetics products in three exhibition halls at the MOC in Munich from 1 to 2 June.
Exhibitors Declare the Event a Success and Praise the Quality of Visitors
Exhibitors consider the event an overall success. According to a survey conducted by the independent market research firm Gelszus Messe-Marktforschung, 89 per cent of exhibitors felt their participation in the trade show had been successful, and 93 per cent plan to exhibit at CosmseticBusiness again next year. The level of professional qualification among visitors was praised especially highly by 98 per cent of respondents. The quality of contacts was also given top marks by 97 per cent of respondents.
Visitors Appreciate the Exchange and Strengthen Their Business Relationships
Visitors were very satisfied with CosmeticBusiness and 84 per cent of them considered their visit to the trade show worthwhile. The overwhelming majority (77 per cent) achieved their goals and went home satisfied. Nearly all of them (95 per cent) plan to visit CosmeticBusiness again next year. The same percentage would also recommend this well-established trade show to colleagues.
Top priorities on the agenda of visitors to the show included making and nurturing business contacts, conversing with business partners and informing themselves about innovations and trends. This year, one in four visitors came from a country other than Germany with Austria, Switzerland, Poland, Italy, and Spain being particularly well represented. Altogether, trade visitors from 33 countries were in attendance.
Focus on Industry Trends and Innovations
The event's motto, "Turn Trends into Business," was at the forefront of both the Spotlight novelty show and the conference programme, which focused on industry trends and exhibitor innovations. Sustainable product concepts, recyclable packaging and cost-saving potential dominated the range of topics. For the first time, CosmeticBusiness hosted a start-up area in the Innovation Corner. The "Meet the Start-Up" format also gave young companies in the cosmetics supplying industry the opportunity to present themselves to a broad industry audience and establish business contacts with cosmetics manufacturers.
The next CosmeticBusiness will be held at the MOC in Munich on 14 and 15 June 2023.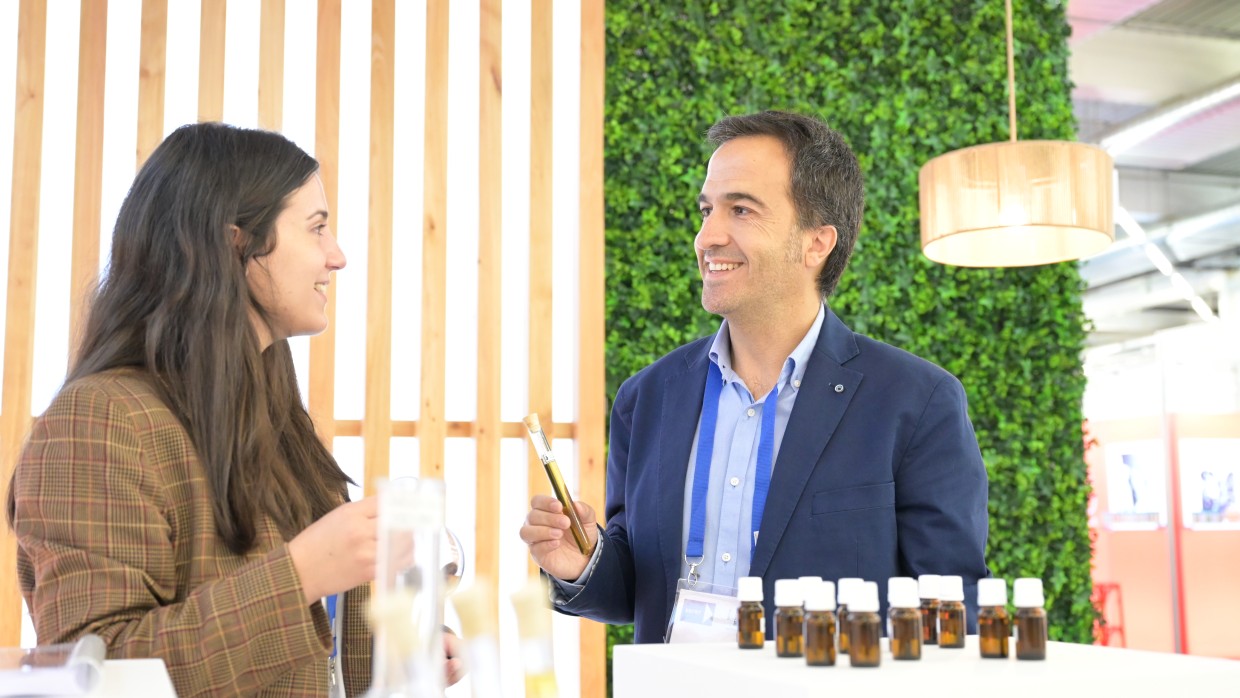 Back to all news