22/09/2021
CosmeticBusiness
Sustainable and Creative
At CosmeticBusiness 2021, the Packaging Sector is Focusing on Ecological Solutions
Sustainability is the main packaging topic at CosmeticBusiness 2021 on 20 and 21 October in Munich. From resource-saving concepts to bio-based and biodegradable materials and recyclable labels, exhibitors will be presenting solutions that are both sustainable and creative. The exhibitor directory gives a compact overview of the new products and innovations.
The Perfect Combination of Eco-Design and Recyclable Material
Recyclates, recyclability and (weight) reduction are the three Rs that form the foundations of all sustainable packaging solutions. Albéa incorporates all three in its "PCR Max" tube, with an eco-designed and lightweight "SLIM" PE cap. The tube is made from a single material that is easy to recycle, is thinner than before at only 350 μm and contains around 57 per cent PCR for 200-ml tubes with a diameter of 50 mm, not including the cap.
Airless Dispensers Made From Recycled Materials
Aptar's ECO range of airless dispensers are made from 100 per cent PP/PE and certified 96–98 per cent recyclable by Cylos HTP. They do not contain any problematic plastics such as POM or EVA. The company has instead developed various solutions using PCR. For example, with Micro 30 ml R-PET, over 60 per cent of the airless dispenser is made from mechanically recycled PET PCR.
Single-Material PET and PP Films
Ballerstaedt is presenting its new sealing films BaCo Sealfilm Mono-PET and BaCo Sealfilm Mono-PP are made from unmixed mono-material. In contrast to traditional sealing materials that are usually made from compounds and therefore cannot be broken down industrially into individual components, mono films are easy to recycle. They are manufactured from pure PET or PP and can either be separated or put back into the relevant recycling stream together with the container.
Pumps – Ecological and Gentle
Bomo trendline will be presenting two products from its bomo trendline loves green range at CosmeticBusiness this year. The ECO Lotionpump – Monomaterial is to be the latest generation of pumps by the manufacturer. The mono-material pump is made from 100 per cent PP and is 100 per cent recyclable. The Clever Airless Dispenser Cairo has been developed for valuable and sensitive products such as natural skincare creams, body balms, serums and lotions. The patented NCS cap reliably protects the entire opening area from germs and oxidation.
Bio-Based Materials for Moulding
Corpack is offering resource-saving packaging solutions made from 100 per cent bio-based components also used in paper production. All packaging solutions are bio-degradable, certified for industrial composting, with a further version that can be composted at home. Furthermore, the solutions from Corpack are suitable for injection moulding and thermoforming, can be combined with other sustainable materials and can be customised in terms of colour using biodegradable pigments.
Tubes with RecyClass and APR Certification
EPL's newly developed laminated tubes are based on its Platina material and have become the first-ever tubes worldwide to be awarded RecyClass certification. EPL's creation of a 100 per cent reusable product can be seen as a major breakthrough in packaging solutions, making it possible to open up new markets in areas such as health, hygiene, cosmetics and foods.
Pouch Packaging With Uncoated Paper
Paper pouch packaging by Labelprint24 is now possible thanks to new materials with strong barrier properties. The pouches are made from brown uncoated paper and white paper and are suitable for use with all dry or paste foods, as well as non-foods. With their matt look and natural paper structure, stand-up pouches can be designed with paper features. Unprinted areas show a clear paper structure. Even strong and bright colours look good on these materials.
Double-Walled Jars Made From Mono PP
Hopf Packaging is launching a new standard range of double-walled jars made from mono-PP. By using just one material the packaging can easily be recycled. The surface of the jars is glossy and all components can be coloured and finished as required. The series comes in five sizes from 15, 30 and 50 to 200 and 250 ml. There are more sizes to come.
The Minimalist, From the Canvas Airless Collection
The Minimalist is the first product to use a patented technology that is expected to redefine the standards for airless products. The packaging from Louvrette is made by bi-injecting an inner and outer layer, which is then blown into shape and assembled using an airless pump. When the pump is actuated, the inner layer dissolves into a pouch that folds in on itself and allows the contents to be dispensed.
Techno Airless Aluminum
TAL from Lumson is an airless packaging solution that combines technological innovation with high functionality. It is light and versatile as well as sustainable and customisable. The special airless bag technology ensures maximum protection for the formula. In addition, TAL can be finished in infinite designs.
Traveling With Ampoules
Lutz Packaging will be presenting its handy box with an integrated ampoule crusher. The box makes it very easy to use ampules, especially when travelling. It can protect a total of 9 ampules (8 + 1 reserve ampule) from breakage and UV light. In addition to this, the company will be introducing its ampule sprayer. This also has an integrated ampule breaker. It can be used for cosmetics as well as for medical products and for vitamin preparations.
Recyclability and Complete Emptying Combined
PirlOne tubes from Pirlo Tubes are made entirely of PP. All components can be returned to the material cycle after use. In addition to a recyclability of around 96 per cent, the tube can be almost completely emptied. This is a result of reduced materials (thickness 250 μm) that give the tube more flexibility.
Sustainable Labelling Solutions
Top-Label will be showcasing its materials solutions available for labels to support packaging sustainability. One development particularly worth mentioning is the production of labels from grass paper made from sun-dried hay. Stone foil is another natural material. It is made entirely from waste products such as broken marble and recycled PE. The production process does not require any water or bleach.
Source: All exhibitors mentioned, Photo: CosmeticBusiness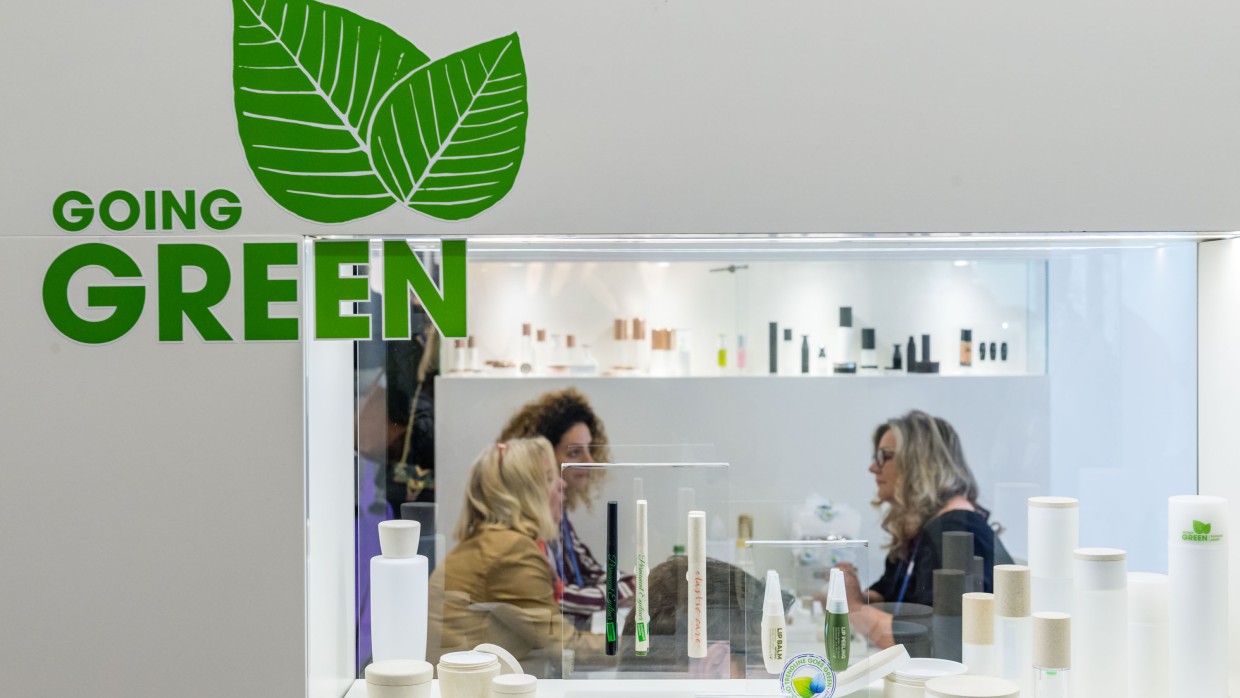 Back to all news