15/02/2021
CosmeticBusiness
Refill System for Hair Care Starts in April
P&G Ramps up Operations to Reach Packaging Targets
Procter & Gamble is pushing its sustainability program for packaging in DACH, launching its "Refill the Good" system for Pantene Pro-V, Head & Shoulders and Herbal Essences shampoos in April this year. The company also plans to introduce fully recyclable shampoo and conditioner bottles for hair care products by the end of 2021, and reduce the use of new plastic by 50 per cent compared to 2016, they added. The company expects all of these measures to eliminate 300 million new plastic bottles in Europe every year from 2021 onwards. The manufacturer had previously planned to meet these packaging targets for its hair care brands by 2030.
Durable and Indestructible
The refillable packaging consists of a specially designed aluminium bottle with a dispensing pump and a recyclable refill pack made from mono-PE material which, according to P&G, contains 60 per cent less plastic than a standard shampoo bottle. "Our goal is to simultaneously reduce the use of plastic and offer a durable option that is safe to use in the bathroom," explains Jürgen Dornheim, Director Corporate Packaging Innovation & Sustainability at P&G. "Aluminium combines all these attributes. It is long-lasting, does not rust and is recyclable. Furthermore, it can be used safely in the bathroom since it is sturdy and won't smash."
Recycled Rather Than New Plastic
On the topic of virgin plastics, P&G began continuously reducing the use of the material in 2016. From April, 40 per cent of virgin plastic in Pantene Pro-V and Head & Shoulders shampoo and conditioner bottles will be substituted with recycled plastic, the company says. Herbal Essences' bottles will by then already be made of 100 per cent recycled plastic, according to the manufacturer, since they are made of PET material.
Source: P&G, photo: XXX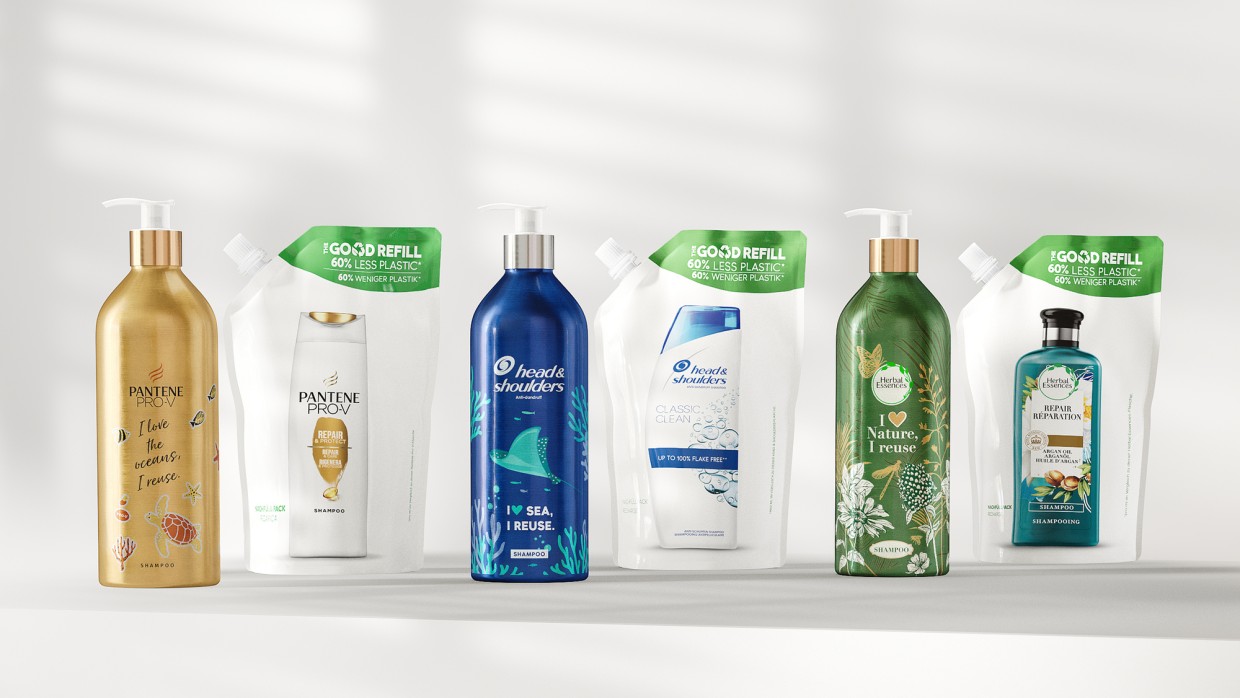 Back to all news