28/09/2022
CosmeticBusiness
Moving on From "End of Life"
CosmeticBusiness 2022: Sustainability Is Only Possible in a Circular Economy
For Amarjit Sahota, the way forward is clear: if we want to achieve sustainability, we can only do it by creating a circular economy. In his lecture as part of the conference programme at the CosmeticBusiness 2022, the analyst from the market research agency Ecovia Intelligence clearly laid out the reasons behind this statement and explained how the cosmetics industry is already taking the first practical steps.
Three Pillars Model Needs Rethinking After 30 Years
Sahota made a plea to rethink sustainability. After all, the classic three pillars model based on ecological, economical and social aspects was developed in 1987 and is therefore over 30 years old. The world has changed since then. Consumers are better informed and thus more demanding. In combination with the wide range of technological advances, this makes sustainability more complex overall.
"We think the solution lies in a circular economy that moves on from linear consumer models", Sahota says in his recommendation. Products should be developed so that they no longer have an "end of life" and can always be recycled or reused within the circular economy. "In nature, there is no such thing as waste", the consultant adds. There, something old always leads to something new.
Cosmetics Industry on Route to a Circular Economy
The cosmetics industry has taken its first steps in this direction. For example, "zero waste" has been the production target at Procter & Gamble and Unilever for some years now. "Upcycling" is another trend where secondary products from food processing plants find their way into cosmetics products, such as coffee grounds in hair care or waste products from the drinks industry in hair dyes.
Sahota sees further circular economy trends in new business models, such as deposit systems for packaging and the increased use of renewable materials such as wood and cork to replace plastic in cosmetics packaging, as well as in the recycling of CO2 emissions for use in ethanol for low-resource plastics.
Clear Verdict of "Maybe" Regarding Quality Labels
Sahota takes a more critical approach to the development of quality labels for consumers that show how sustainable a product is. The market researcher does not have a general problem with quality labels. However, he fears that shoppers will "switch off" when looking at the products on the shelf. According to Sahota, it is increasingly challenging for both specialists and consumers to tell the difference between real quality labels and marketing claims. Another aspect is that it is becoming more difficult in general to keep track of all the labels. Within the last ten years, the number of quality labels in the cosmetics industry has increased from five to 30. The analyst expects this development will continue in the same way as it did in the food industry, where there are now over 200 ecological quality labels.
Amarjit Sahota offers a final recommendation to brand owners on finding the best way forward in the jungle of labels. "We consider the Cradle to Cradle certification the best." It supports product design with a focus on a "2nd life" and therefore resonates directly with the idea of a circular economy. In the cosmetics industry, L'Oréal, Calvin Klein and Garnier are already working according to Cradle to Cradle criteria.
The lecture is available to registered users in the media library at https://www.cosmetic-business.com/program/cosmeticbusiness/4789 .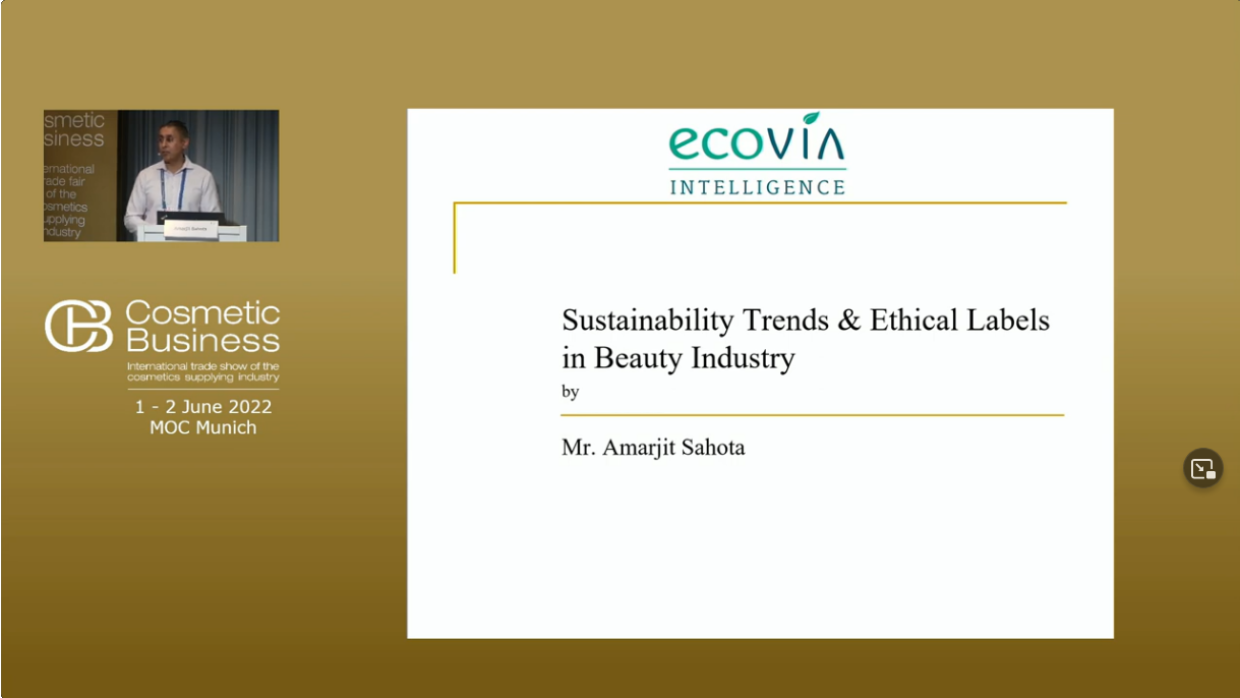 Back to all news