16/06/2023
CosmeticBusiness
More Products Producing Less CO2
Beiersdorf Reduces the CO2 Footprint of Further Product Ranges
Skincare group Beiersdorf has optimised the sustainability features of Nivea Sun, Nivea Lipcare and Eucerin. With its sustainability agenda, the company aims to achieve a 30 per cent absolute reduction of CO2 emissions across the entire value chain (scope 1, 2 and 3) by 2025 (vs. base year 2018). To achieve this, the group is reworking assortments of its global brands – both on formula and packaging level. At the end of 2022, the group reportedly achieved a 17 per cent absolute CO2-reduction.
More Nature in the Ingredients
According to the company, the bottles, blue caps and yellow trigger pumps of the Nivea Sun Protect & Moisture range are available on the market this season with 50 per cent recycled material. Furthermore, the UV filters Octinoxate and Oxybenzone have been eliminated from the formulas of the whole Nivea Sun range. The reworked Nivea Lip Care products are no longer packed in a plastic blister and will be available in a plastic-free folding box, which is made from recycled and FSC paper. Furthermore, the range introduces a new stick that is made of mono material, polypropylene (PP), which is now a fully recyclable solution. Almost all product formulas have been reworked and entail 99 per cent ingredients of natural origin (except SPF), for example ethically sourced shea butter.
Less Plastic
With an innovative new refill jar, Eucerin recently launched a new, sustainable packaging alternative for its Hyaluron Filler Day and Night Cream. The refill concept is said to only need 8g instead of 89g of plastic, which corresponds to saving ~90 per cent of plastic when consumers keep the outer jar & lid and purchase just the inner jar as a refill. Potentially, this can deliver an annual saving of ~24t of plastic, the company states.
Source: Beiersdorf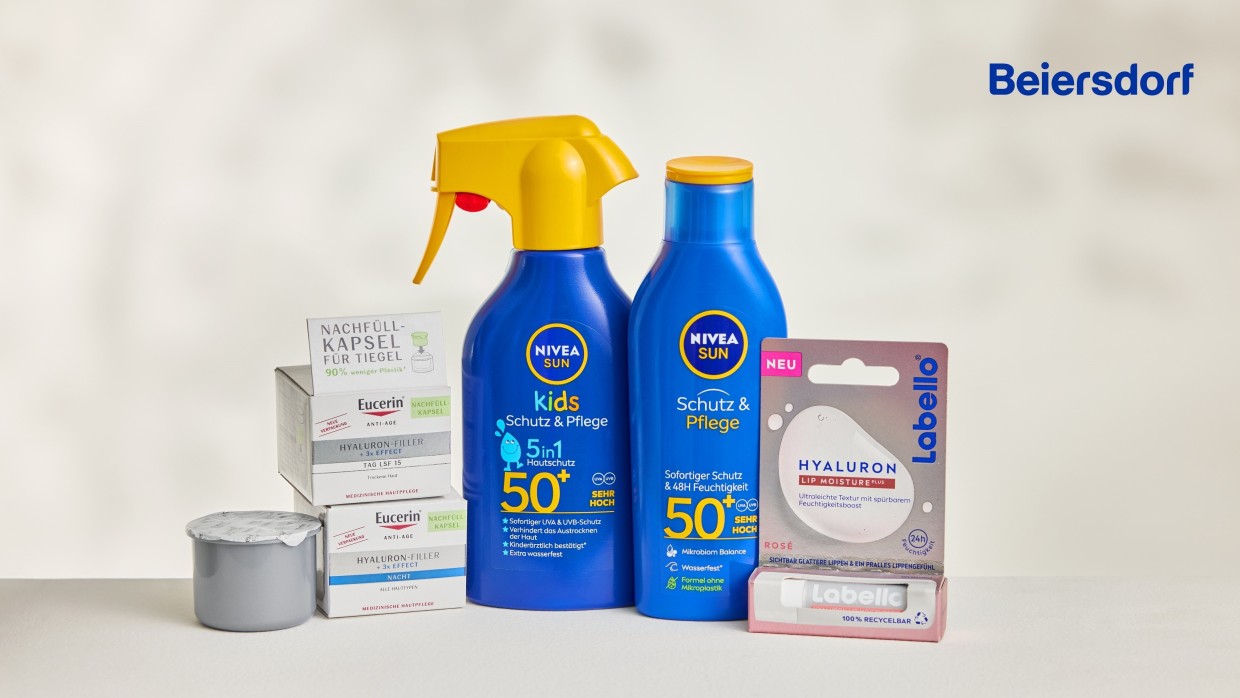 Back to all news