13/06/2023
CosmeticBusiness
Meet the Start-up: NoPalm Ingredients
The Dutch start-up offers palm oil alternatives that are obtained through the fermentation of agri-food waste streams. NoPalm Ingredients presents its solutions at CosmeticBusiness 2023 from 14 to 15 June in Munich. Ahead of the show, the CosmeticBusiness editorial team talked to the founders Lars Langhout and Jeroen Hugenholtz.
How did you come up with the idea for your start-up?
The idea for NoPalm Ingredients started when Lars Langhout and Jeroen Hugenholtz came together. These are two individuals with different backgrounds but a shared passion for sustainability. Jeroen, a dedicated researcher, made a groundbreaking discovery in the form of an innovative and sustainable method for producing an alternative to palm oil by fermenting agri-food waste streams. His findings were published in a research publication, catching the attention of Lars, a seasoned businessman with a background in strategy consulting. Recognizing the immense potential of this discovery to positively impact the climate, Lars decided to take the plunge and join forces with Jeroen to found NoPalm Ingredients. Together, they embarked on a mission to revolutionize the industry and provide a sustainable solution to the palm oil dilemma, combining Jeroen's scientific expertise with Lars' business acumen.
What is unique about your company and your products?
What sets NoPalm Ingredients apart is our unique approach to addressing two major global challenges. Palm oil, a widely used ingredient, contributes to 1.5 per cent of global greenhouse gas emissions, while a staggering one-third of all food produced goes to waste. We tackle these issues simultaneously, solving one with the other. Our oils and fats, just as affordable and versatile as palm oil, reduce carbon emissions by an impressive 90 per cent.
Our innovative fermentation platform transforms agri-food waste streams into valuable oils and fats and uses a simple and cost-effective fermentation process, similar to brewing beer. This process not only lowers our raw material and manufacturing costs but also aligns with our sustainability goals. And by tweaking some process parameters, we can instruct our yeasts to produce specific oil fractions. This sets us apart from glucose-based fermentations that fail to meet those criteria of affordability and versatility. Consequently, we tap into a vast market in both the food and cosmetics industries, gradually expanding our product segments to encompass everything from infant formula to cosmetics.
We have gained strong market traction with multiple paid commercial pilots, upcycling waste streams from partnering companies and integrating our oils and fats into their products. Despite being established only last year in January, we have already achieved significant progress, scaling up to 2000L. NoPalm Ingredients is fueled by a dedicated and talented team that is passionate about revolutionizing the industry and creating a sustainable future.
NoPalm Ingredients at CosmeticBusiness 2023 – What motivated you to take part?
We are motivated to showcase our innovative and sustainable solutions to the cosmetic industry, and this platform provides an excellent opportunity to connect with industry professionals, brands, and co-manufacturers who are passionate about sustainable alternatives.
We believe that the cosmetic industry has a vital role to play in driving positive change and reducing its environmental impact. By offering palm oil alternatives with a significantly reduced carbon footprint and leveraging our fermentation platform to upcycle waste streams into valuable ingredients, we aim to revolutionize the industry's approach to ingredient sourcing and production.
CosmeticBusiness 2023 allows us to demonstrate the unique benefits and versatility of our products, engage in meaningful conversations, and forge valuable partnerships that will contribute to a more sustainable and environmentally conscious cosmetic industry. We are excited to be a part of this event and inspire positive change within the industry.
What can visitors to the CosmeticBusiness look forward to? Which product will you bring with you?
Visitors to CosmeticBusiness can look forward to an exciting showcase of NoPalm Ingredients' innovative and sustainable solutions. We are proud to present a range of products, including our NoPalm Oil ideal for soap making or as a carrier oil in skincare and haircare. This oil boasts a high level of antioxidants, providing valuable benefits for personal care formulations. Additionally, we will exhibit our versatile NoPalm Fat that can be utilized in soap making or as a nourishing butter for skincare and haircare applications.
To illustrate our commitment to the circular economy, we will display the waste materials used in our fermentation process, demonstrating our sustainable approach. Furthermore, visitors will have the opportunity to explore our NoPalm protein-rich by-product, which holds great potential for haircare applications.
As a testament to our cutting-edge innovations, we will also deliver two engaging presentations at the innovation corner, providing valuable insights into our groundbreaking technologies and their applications in the cosmetic industry. Be prepared for an enlightening and inspiring experience at the NoPalm Ingredients booth.
You can find the start-up NoPalm Ingredients in Hall 4, E04.5.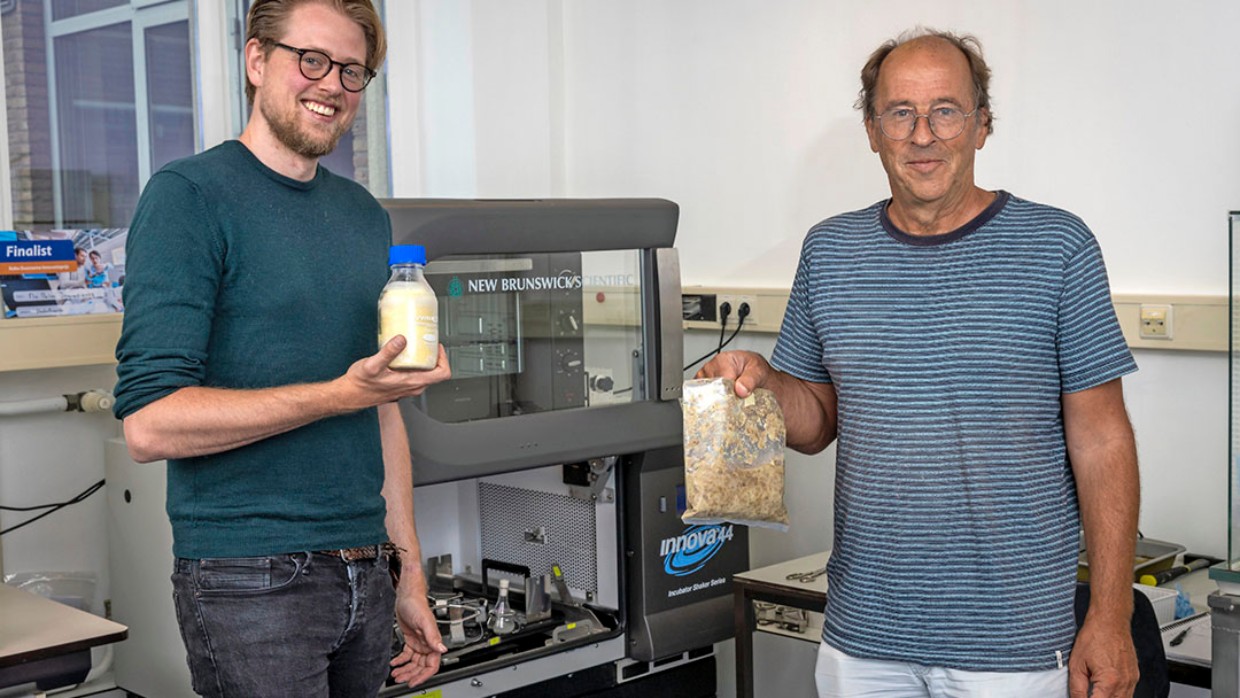 Back to all news