04/05/2023
CosmeticBusiness
Meet the Start-up: Gravel AI
The British start-up has launched a market analytics platform based on AI and NLP for cosmetics ingredients. On 14 and 15 June, they will present themselves at CosmeticBusiness in the Innovation Corner. The CosmeticBusiness editorial team talked to the start-up in advance.
1. How did you come up with the idea for your start-up?
Gravel AI was founded by Karen Ho and To Hong Chan. Karen has over 10 years' experience in data science, including as Global Head of Product for a FTSE data analytics company, responsible for launching new data products into B2B industries. To Hong has over 10 years' experience in digital platform scaling, with a background in materials science from Oxford University.
Combining the experiences from both co-founders, the company identified chemicals manufacturing as an industry where data, analytics and intelligence could create significant efficiency gain and competitiveness improvement.
Gravel AI focuses on the personal care segment with its market analytics platform, but will enter other segments in the near future.
2. What is unique about your company and your product?
Gravel AI has recently launched its Chemical Consumption Intelligence Platform for the personal care market. This platform provides chemical manufacturers with instant intelligence on where market opportunities are, per chemical, per country, per application and per account to support the design of more effective sales strategies to deliver faster growth.
"This new platform gives precise intelligence to chemical manufacturers' business development teams, enabling them to identify which accounts to target and where emerging consumption for their chemicals will come from", said Karen Ho, CEO of Gravel AI. "Our aim is to help chemical manufacturers increase speed-to-market and shorten their sales cycles."
Start-ups bringing green and innovative chemical ingredients to the personal care market as well as manufacturers of premium active ingredients or manufacturers expanding into new geographical markets and applications or manufacturers looking to retain or upsell existing accounts benefit from the new Chemical Consumption Intelligence Platform.
Gravel AI's Personal Care Chemical Consumption Intelligence Platform simplifies the process of obtaining precise intelligence. After logging into Gravel AI's platform with an email and password, clients will only need to enter their chemical ingredients and markets, click 'search' and the AI will generate insights on emerging and existing consumption from millions of data points.
"Gravel AI collects data continuously to provide fresh intelligence. Together with our real time analysis platform, a market research project that typically takes an analyst 2 weeks is reduced to 30 minutes" stated To Hong Chan, Chief Operating Officer for Gravel AI.
3. Gravel AI at CosmeticBusiness 2023 – What motivated you to take part?
Gravel AI's Personal Care Chemical Consumption Intelligence Platform has attracted a lot of interest from chemicals manufacturers and distributors in the US, UK and Asia Pacific, with over 50 demos booked in the recent in-cosmetics global 2023 in Barcelona.
CosmeticBusiness 2023 is a great opportunity to meet chemicals manufacturers and distributors from Europe and demonstrate the platform to the audience.
4. What can visitors to the CosmeticBusiness look forward to? Which product will you bring with you?
Gravel AI will be providing a live demo of the platform, where the visitors could obtain instant consumption intelligence of their personal care chemical or ingredient - by market, by application, by brand. They will find out how two week's research work by an analyst could now be reduced to 30 minutes on Gravel AI's platform.
You can find the start-up Gravel AI in hall 4 E04.2.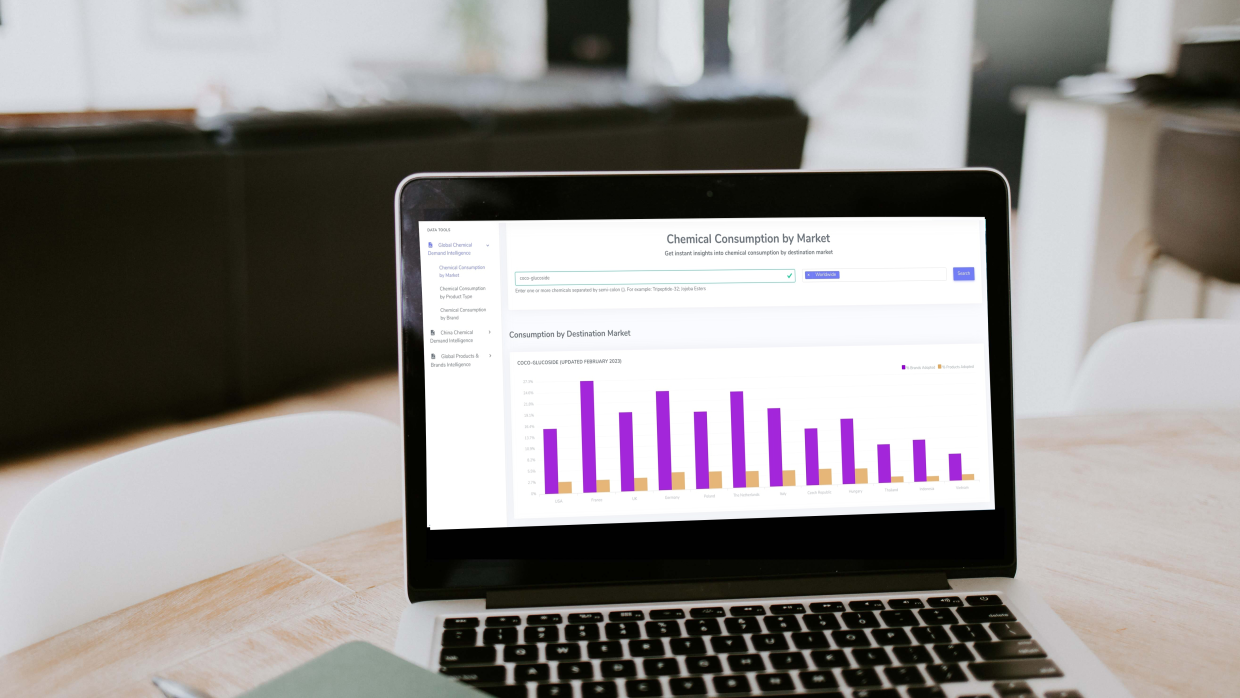 Back to all news