19/05/2022
CosmeticBusiness
In Two Weeks It Says: Turn Trends into Business
In June, CosmeticBusiness Shows Innovations From The Cosmetics Sector With New and Proven Elements
From 1 to 2 June 2022, the cosmetics industry will be getting together with its suppliers in early summer as usual for the 17th edition of CosmeticBusiness at the MOC in Munich. Decision-makers from the cosmetics industry will be getting new inspiration for their product development from 300 exhibitors of ingredients, manufacturing and packaging. This is reflected in the motto of the international trade show of the cosmetics supplying industry which is "Turn Trends into Business".
"Our motto accurately describes the main strength of CosmeticBusiness", says Markus Geisenberger, Managing Director of Leipziger Messe. "This trade show covers the entire international value chain. There will be more than 300 exhibitors from 26 countries with France, Italy, the Netherlands, Poland, Austria, Spain and Switzerland most strongly represented. Approximately 30 per cent of suppliers will be travelling to Munich from abroad. And every tenth company will be exhibiting at the show for the first time. So for anyone who wants to know which trends are currently defining the formulation, manufacture and packaging of cosmetics products, a visit to CosmeticBusiness is a must", Geisenberger adds.
New Format for Start-Ups
In three halls of the MOC, the exhibition offers proven as well as new elements. The "Meet the Start-up" series will have its premiere. There, young companies will be presenting themselves and their ideas. As the innovational hub of the cosmetics industry, CosmeticBusiness is explicitly offering newcomers a platform where they can present themselves to a professional international audience and establish business contacts. MyMicrobiome, Recyda, Rezemo and Islamic Chamber Halal Certification will be on site on both days of the fair to present their solutions on topics such as certification and recycling.
As in previous trade fairs, thematic routes will again help to guide visitors through the trade show. In 2022, these will be a Premium, Green and Innovation Route. The well-known SPOTLIGHT special show will feature innovative product developments in the areas of ingredients, manufacturing and packaging. This year's conference programme also does justice to the motto "Turn Trends into Business". In 2022, lectures on trends and innovations in the cosmetics industry will focus on the subject of sustainability.
Matchmaking Tool for Establishing Business Contacts
In order to help visitors prepare for their visit to the show, the organisers offer a digital trade show guide, a trade show app as well as the "Matchmaking" tool. It provides each user with individual potential business contacts based on their interests and goals. The tool can be used to arrange meetings at the trade show. This enables trade visitors to quickly and easily establish suitable business contacts. Matchmaking is available in both desktop and mobile formats.
Source, Foto: CosmeticBusiness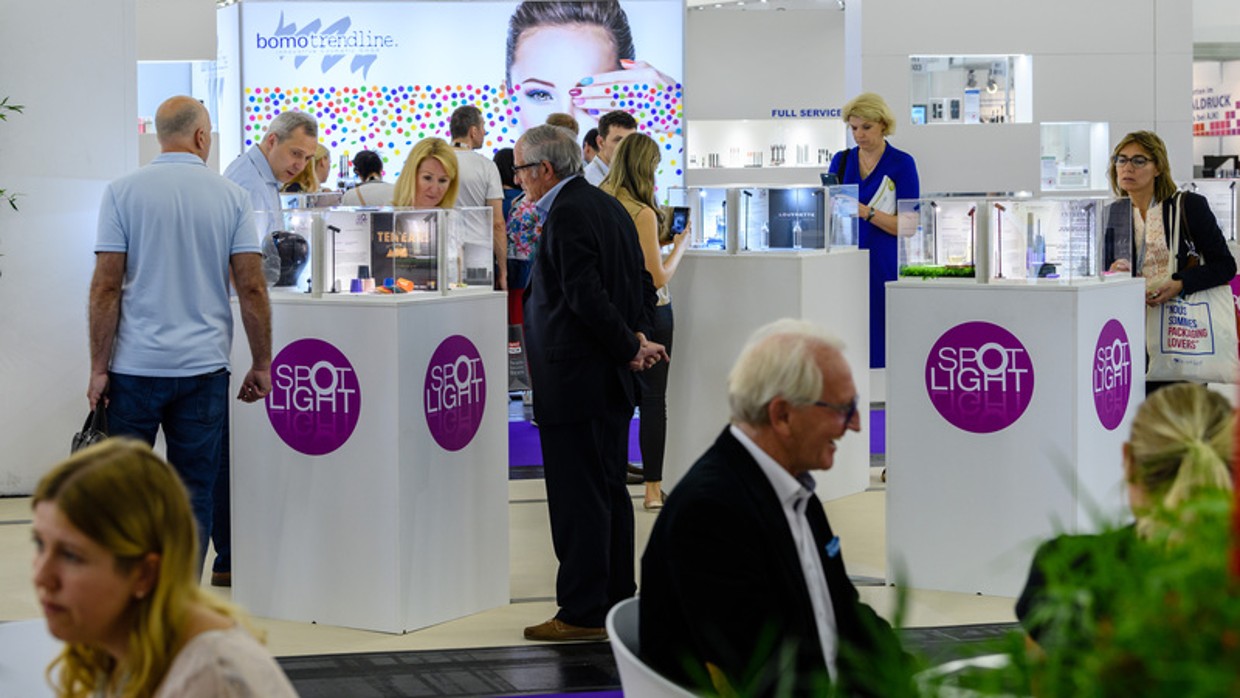 Back to all news