20/01/2022
CosmeticBusiness
German Cosmetics in Demand Internationally
Exports Compensate For Weak Domestic Sales Experienced by Members of the IKW
According to the German Cosmetic, Toiletry, Perfumery and Detergent Association (IKW), the German beauty and household care industry ended the 2021 financial year with a modest increase in revenue. This was possible thanks to strong increases in export revenue, which compensated for weak national sales. The industry thus managed to increase its annual revenue in 2021 by 1.1 per cent compared to the previous year, reaching a total of 28.1 billion euros.
Recovering Consumer Demand Outside Germany
IKW reports that the 10.6 per cent growth in export revenue, amounting to a total of 9.4 billion euros, was driven by increased consumer demand in countries such as France, Italy, Great Britain and China. Exports still fell short of pre-pandemic levels.
The pandemic cast a shadow over the domestic market for a second year running, the industry association explains. The association's approximately 430 members reported a 3.0 per cent decline in revenues compared to 2020, falling to a combined 18.7 billion euros. The IKW adds that these projected figures are based on data from the first three quarters.
Feel Good Products for Home Are in Highest Demand
Year-on-year declines in beauty care revenues were experienced in domestic sales of decorative cosmetics (down 7.2 per cent), women's fragrances (down 5.6 per cent) and hair care products (down 2.4 per cent). Data from IKW reveals that German consumers spent more money on oral and dental care products (plus 1.6 per cent) as well as bath and shower additives (plus 2 per cent) and foot care products (plus 2.7 per cent). All these areas achieved record sales. "Products to make life at home more comfortable were in demand", adds Managing Director of IKW, Thomas Keiser.
Source, photo: IKW
Source: IKW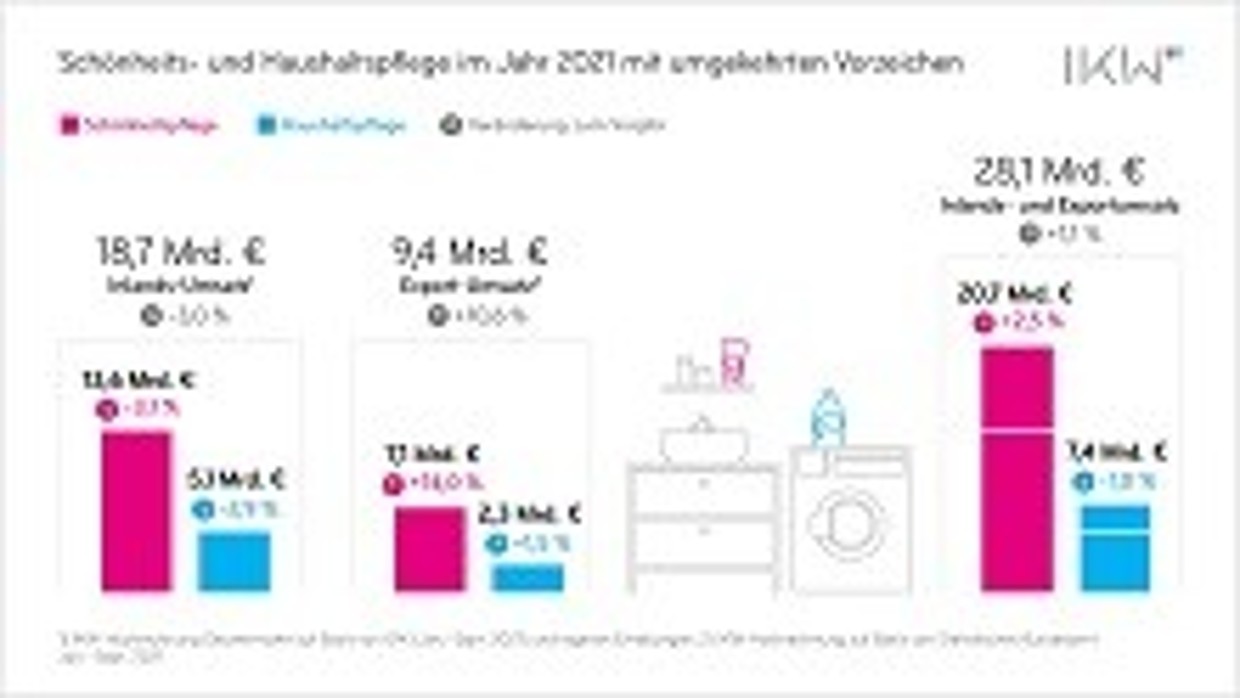 Back to all news