09/02/2022
CosmeticBusiness
CosmeticBusiness 2022: Cosmetics Industry and Suppliers Come Together in Munich in June
Following the successful restart of CosmeticBusiness in 2021, the international trade show of the cosmetics supplying industry, preparations are already in full swing for this year's event, which takes place at the MOC Munich on 1 to 2 June. At CosmeticBusiness 2022, cosmetic industry suppliers will present their latest products under the slogan "Turn Trends into Business." The event's wide spectrum covers everything from ingredients to production and packaging for the entire cosmetics product portfolio.
The stage is set for CosmeticBusiness 2022. At the start of June, industry representatives will come together at MOC Munich to discuss common projects. Decision-makers from the fields of development, purchasing and product management will find plenty of inspiration for new cosmetic products, from ingredients to production and packaging. "Exhibitors were highly satisfied with the restart of the trade show in October last year – this was reflected in top ratings from our exhibitor survey, both in terms of achieving goals and the overall quality of trade show contacts – and there is already great anticipation for the next essential industry event," says Project Director Ivonne Simons. Decision-makers from the cosmetics industry see visiting trade shows as increasingly important again. According to the CosmeticBusiness 2021 visitor survey, 94 per cent of respondents would make greater use of trade shows in the future and would recommend a visit to the international trade show of the cosmetics supplying industry in Munich.
"CosmeticBusiness is the annual international meeting place for the sector, unique in bringing cosmetics companies and suppliers together to exchange ideas, network and develop new business opportunities. This is where the concepts for tomorrow's cosmetic products are developed," explains Markus Geisenberger, Chief Executive Officer of Leipziger Messe. "The success of CosmeticBusiness 2021 has shown that, more than ever, the industry needs face-to-face interaction. We will continue to build on this and once again ensure that visitors have a safe, relaxed and successful time at the event."
Keen Interest Among Exhibitors
From 1 to 2 June 2022, about 300 exhibitors in three exhibition halls at MOC Munich will once again have the opportunity to showcase their latest products to decision-makers from the world of cosmetics. Numerous companies have already signed up for this year's international trade show, with around a third of exhibitors coming from outside Germany. In addition to leading German cosmetics suppliers, companies from France, Italy, Poland, the Netherlands and Switzerland are also well represented – exhibitors include market leaders such as Aptar (France), Baralan (Italy) and Fasten (Netherlands).
Four months ahead of CosmeticBusiness 2022, there is continued keen interest among cosmetics suppliers, and the exhibition space is already bigger than last year's event. Potential exhibitors can still register for the event until the end of February. You can find details of how to register as an exhibitor on the website.
Start-Up Area to Help New Businesses to Gain a Foothold in the Market
The Start-up Area at CosmeticBusiness will once again give newcomers to the cosmetics industry an opportunity to present their cutting-edge products and services to international trade visitors. From innovative ingredients and creative packaging solutions using new materials to digital marketing tools – there are a wide range of potential business contacts from across the industry at the trade show. Start-ups that are interested can take advantage of a starter package, which includes a ready-to-use exhibition stand, a speaker slot and advertising services.
Exclusive Trend and Zeitgeist Insights for Product Development
Insight into the latest trends is invaluable when it comes to developing stylish cosmetic products. This is why presentations on zeitgeist, trend colours, new developments and influences for the coming years make up an integral part of the programme at CosmeticBusiness. "In-depth workshops, exhibitor talks and product presentations as well as the SPOTLIGHT innovation show enhance the trade show experience for cosmetics supply industry customers. CosmeticBusiness provides exhibitors with diverse opportunities to contribute new ideas for product development – from new ingredients to innovative packaging. The trade show provides a unique platform for developing, creating and launching new product concepts," says Project Director Ivonne Simons.
Sustainability Remains a Hot Topic
Consumer demand for sustainable products remains high. In the cosmetics industry, resource-saving use of raw materials, sustainable packaging and promoting a circular economy continue to be key issues. The importance of these topics is reflected in the conference programme, which includes presentations on sustainable packaging solutions and product concepts, as well as recycling for cosmetics packaging. Exhibitors can present their products and services along the "Green Route", which provides visitors with additional orientation and creates a special focus on sustainable solutions.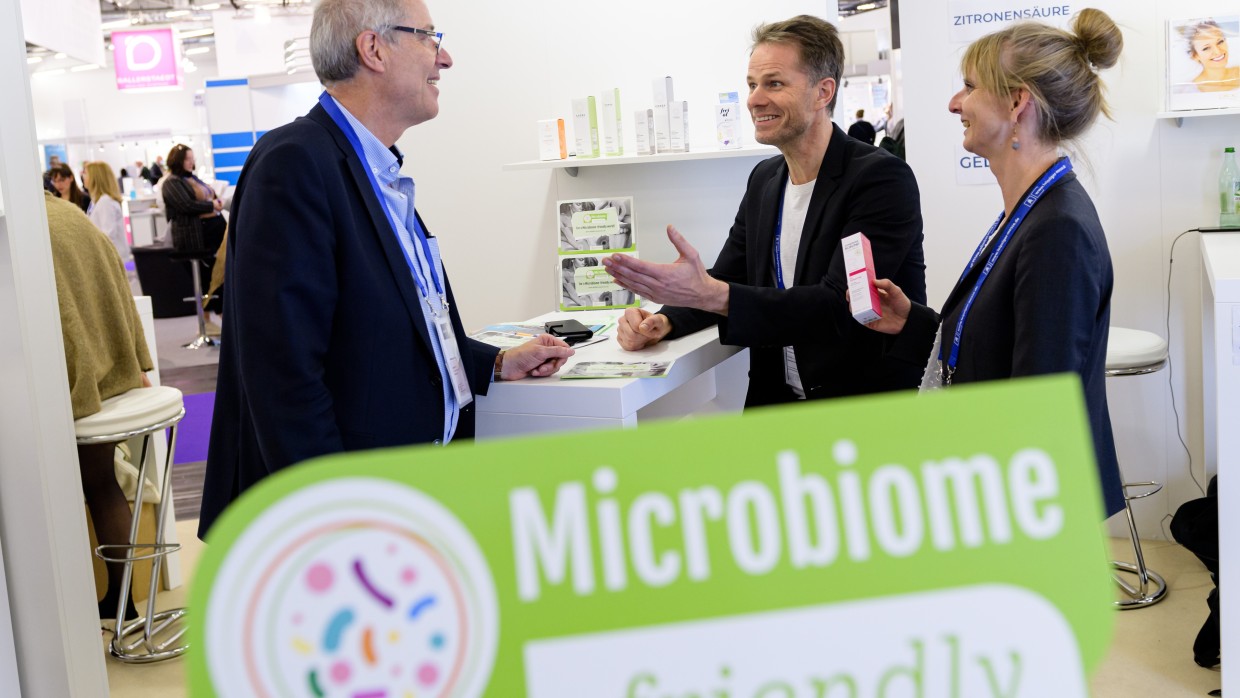 Back to all news