08/10/2020
CosmeticBusiness
CB IMPULSE: CosmeticBusiness Trend and Colour Stories
Inspiration and information from trend researcher and colour expert Niels Holger Wien
CosmeticBusiness could not be held as planned in this challenging year. Nevertheless, CosmeticBusiness and its partners are providing trend information which will inspire and create fresh ideas – in digital form. Through the end of October, several specialist presentations can be accessed online at https://www.cosmetic-business.com/tradefair/agenda and all those interested can easily find inspiration during this period.
Focus on Zeitgeist-Impulse
One of these lectures comes from trend researcher and colour expert Niels Holger Wien. The first part of his lecture PROSPECTS & IMPULSE 2021 BEYOND is about zeitgeist inspiration, which he translates into concrete colour and material concepts in the second part of his lecture.
The six Zeitgeist-Impulse presented are New Horizons, Sense of Community, Sense of Time / Slowbalisation, In Tune with Nature, Expressive Joy and New Normal. New Horizons is about new perspectives that we are moving towards. Wien describes that the blue of the sky has become a symbol for openness and vastness, but also for slowing down. In today's world we need "hopetimism", a mixture of hope and optimism. He also says that in the future product development will focus more on product life-cycles.
Wien describes the second idea as Sense of Community. As an example, he lists protective masks on which it says "Protect each other". According to Wien, these are not only worn as self-protection, but also as a sign that we care for each other. At the moment we are increasingly being asked to show a sense of community. This is new in society and will also accompany us in the future, says Wien.
He continues with his explanation that our Sense of Time has changed. Currently, life is moving at a slower pace and with fewer social contacts. This means that we are in the process of decelerating, argues Wien. One term the expert uses in this context is "slowbalisation". Among other things, this involves local and sustainable production, which is not geared to high-speed operation.
In Tune with Nature is the next idea that Wien is discussing. The trend researcher claims that we have to understand nature in a new way with our hands. After all, we live in a man-made natural age. Current fashion campaigns play with the idea, put people in the environment and show the reality of nature, Wien points out. He concludes that we need a reconnection to nature.
Expressive Joy, a further inspiration, is also explained. In the current times of pandemic-related restrictions, people feel a strong urge to be together in order to be able to share joy again, reports Wien.
The first part of the lecture will close around the zeitgeist idea New Normal. Wien gives an example: A work by street artist Banksy features a child playing with the figure of a nurse dressed as Superwoman. In doing so, Banksy pays tribute to nurses and other health care workers, declaring them superheroes of today. Furthermore, Wien summarises that recyclable fashion is conceivable and feasible. Sustainability is the new basis for all processes and products that are developed.
Specific Colour and Material Worlds
In the second part of his lecture, Wien describes how the zeitgeist ideas can be transformed into specific worlds of colour and material. For CosmeticBusiness he has developed impulses for colours and materials, the so-called CB IMPULSE 2021 BEYOND. According to Wien, these are four colour worlds, based on fashion and design trends, which are intended to work across all sectors.
The first colour world is called Bridging Time, which is about timeless beauty. Wien explains that the materials, which are mostly natural, determine the colour. He continues, that this is also true for recycled materials, which produce numerous neutral colour tones. Many materials also bring their own colourfulness. According to Wien, there is a basic colour scheme that can be described as the white of the materials. A second series of white shades is produced in recycling. The recycled white cannot be a pure white, but an "Honest White", for example a special, sincere white, as Wien explains. Important in Bridging Time are the neutral tones that appear sun-red – like stones or sand. The resulting colours include reddish ochre tones and a robust coffee brown.
The next colour world is called Resonating Time, which emphasises our relationship with nature, Wien explains. This includes dealing with natural materials and colours, those taken from nature and which are similar to nature, according to the expert. It is also about narrative structures and patterns that tell of the vitality and diversity of nature. According to Wien, the colour range is warm, soft and smooth. The lightest shade is the celadon grey – a light, greenish-grey tone. Dark accents are set by indigo and ivy-green.
In quite the contrast, Wien describes that we are now entering a loud and artificial world. The third colour world is called Standing Out. This is about provoking attention, being unexpected and perfectly elegant. All colour themes in this colour world are kept very toned. These include impressive colours like purple viola, pearl rose and black leather, according to Wien.
The fourth colour world Sampling Tradition breaks the harmony of the first three colour worlds. Sampling Tradition stands out with the joy and power of improvisation as a stylistic device. This involves unexpected, vibrating colour combinations – and the collision of classic and recycling. In this way, traditional patterns can be seen in a new light and traditional design principles transferred into the 21st century, says Wien. According to the expert, the colour palette of this colour world is composed of intensive tones. These include a bright ultramarine blue, while the steel grey appears almost neutral, the expert reports.
New CB IMPULSE colour card released for the first time
In addition, the presentation forms the framework for a new product of CosmeticBusiness, which was implemented in cooperation with Wien: The CB IMPULSE colour card, released for the first time, serves as an inspiration tool for visualising trend themes and continues to develop current trends for the future. It is intended as a working tool for the conception and design of future cosmetic products and their packaging. A copy of the limited first edition can be ordered in the online shop of CosmeticBusiness at https://www.cosmetic-business.com/tradefair/en/special-features/trendinformation/. The publication will then be delivered by post.
Source, photo: Niels Holger Wien, CB IMPULSE 2021 BEYOND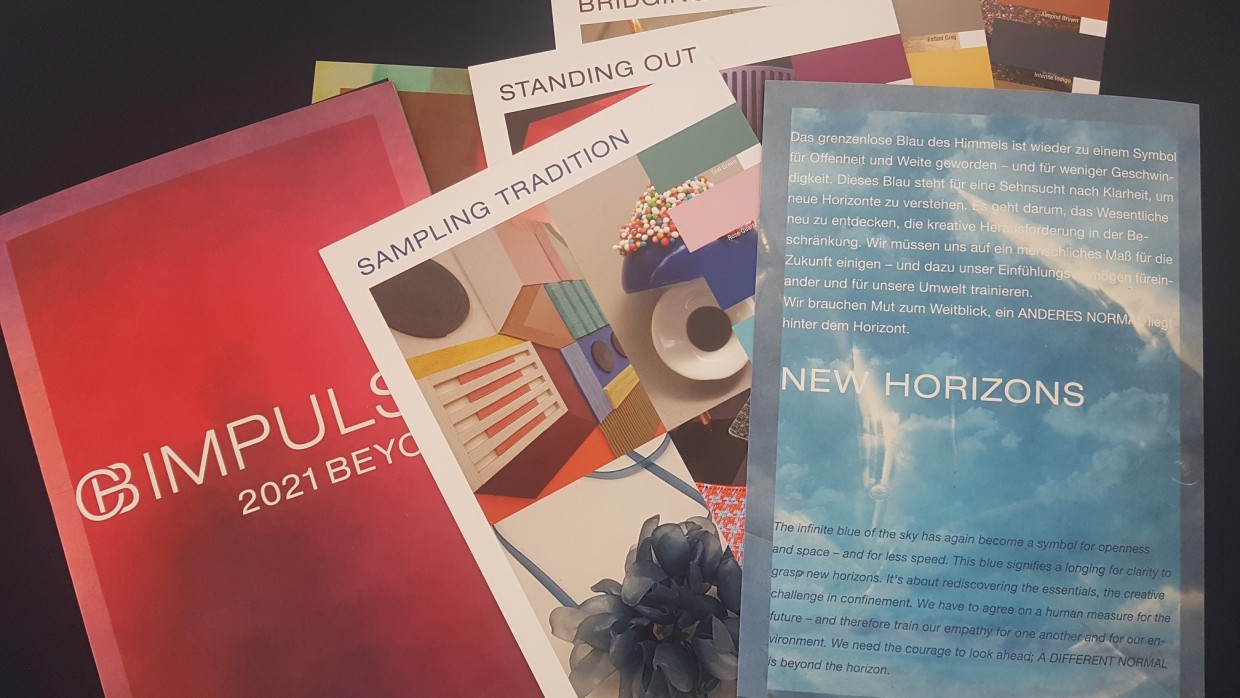 Back to all news